Florida Citrus Trios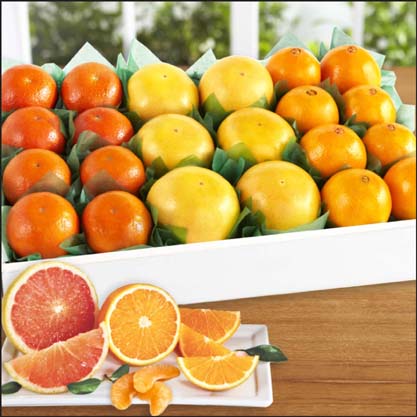 Holiday Triple Treat
Grove Fresh Navel Oranges, Ruby Red Grapefruit & Tangelos
Available November through December
Item 60026 $42.95 (pictured)
Item 60026LG $62.95 (1 tray each variety)
Our extra juicy sweet Navel Oranges are paired with world famous seedless Indian River Ruby Red Grapefruit and deliciously different Tangelos. Think skinned and easy to peel with unbeatable grove fresh flavor.

January Orange Trio
Grove Fresh Honeybells, Navel Oranges & Tangerines
Available January only
Item 60060SM $41.95
Item 60060 $47.95
Item 60060LG $69.95
There's a brief shining moment when three gourmet fruits are at their peak of perfection...luscious and ready to enjoy all at the same time. We'll hand pack Navel Oranges, tasty Tangerines and juicy HOneybells. Better order quick because reservations fill up fast. Order for Christmas and we'll send a card announcing your gift to arrive in January.

February's Favorite Trio
Honey Tangerines, Temple Oranges & Ruby Red Grapefruit
Available February only
Item 15RMT (15 lbs) $42.95
Item 30RMT (27 lbs) $62.95
Three very special varieties arrive bringing the Florida sunshine in the depth of winter are shipped right to your doorstep in February. A classic Florida favorite, the Temple Orange is easy to peel and section. Add in our super sweet Honey Tangerines and our seedless Ruby Red Grapefruit and you have one sweet healthy gift!
March's Most Wanted Trio
Valencias, Honey Tangerines & Ruby Red Grapefruit
Available March through May
Item 15RMV (14 lbs) $42.95
Item 30RMV (24 lbs) $62.95
A box of wonderful Florida fruit to help usher in the warmer weather of spring! This tasty trio includes juicy Valencia Oranges, super sweet Honey Tangerines and the favorite seedless Ruby Red Grapefruit.

Item counts are approximate (unless specified) based on size of fruit at time of packing
This item is shipped directly from the grove to your recipient to ensure quality